You may get better image quality by right-clicking on the photo and choosing "View Image" or "Show Picture".

See more Course Photos for: 1996-2000 2001-2005 2006-2010 2011-2015 2016 -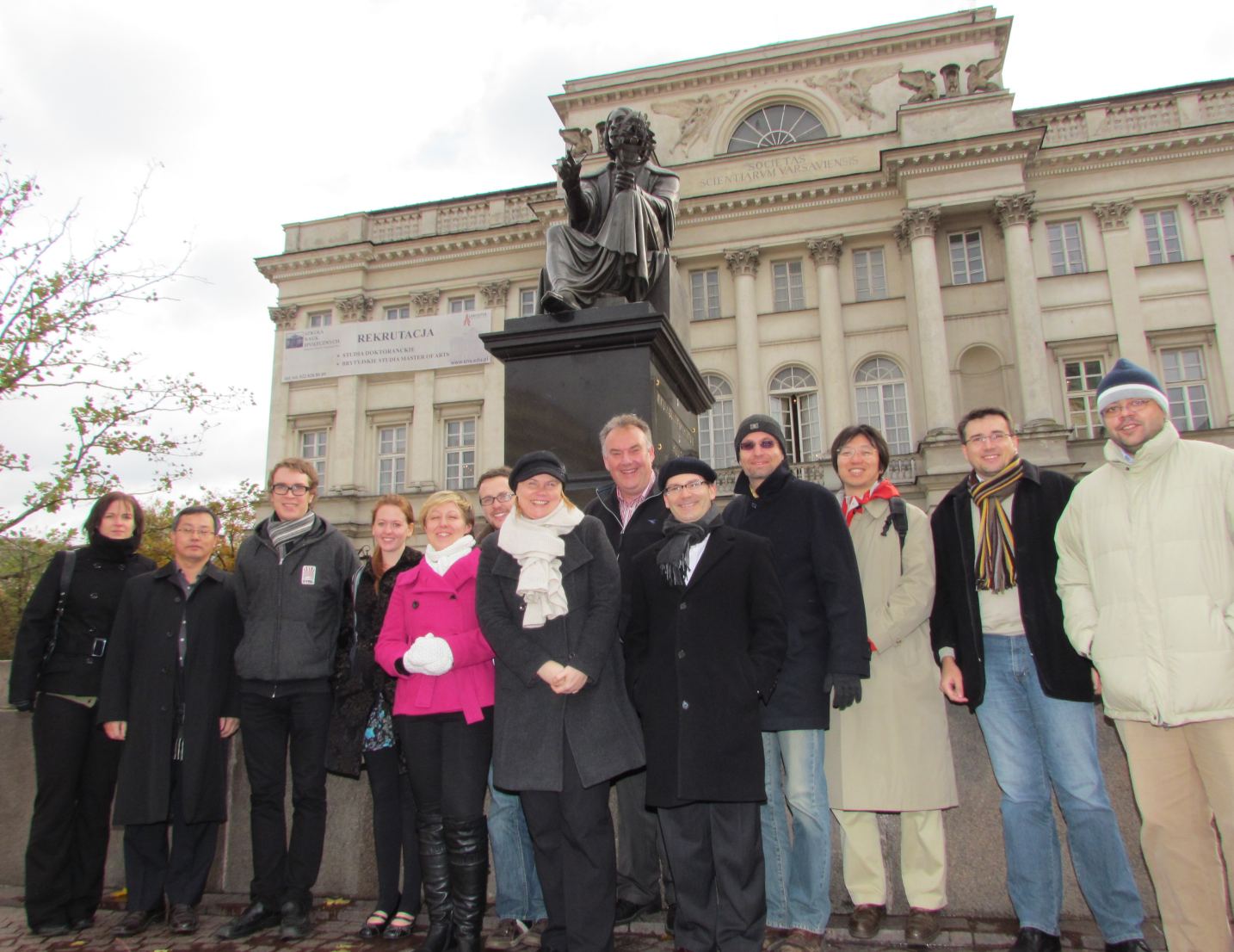 October 2010 CGE Modelling Course at Polish Academy of Sciences, IRWiR, Warsaw
From left to right: Susanna Määttä, Sang-Ho Nam, Antti Simola, Nina Hitchins, Katarzyna Drozdziel, Jakub Boratynski, Katarzyna Zawalinska, Philip Adams, James Giesecke, Fabio Di Dio, Fumihiko Koyata, Sauboin Christophe, Francesco Felici.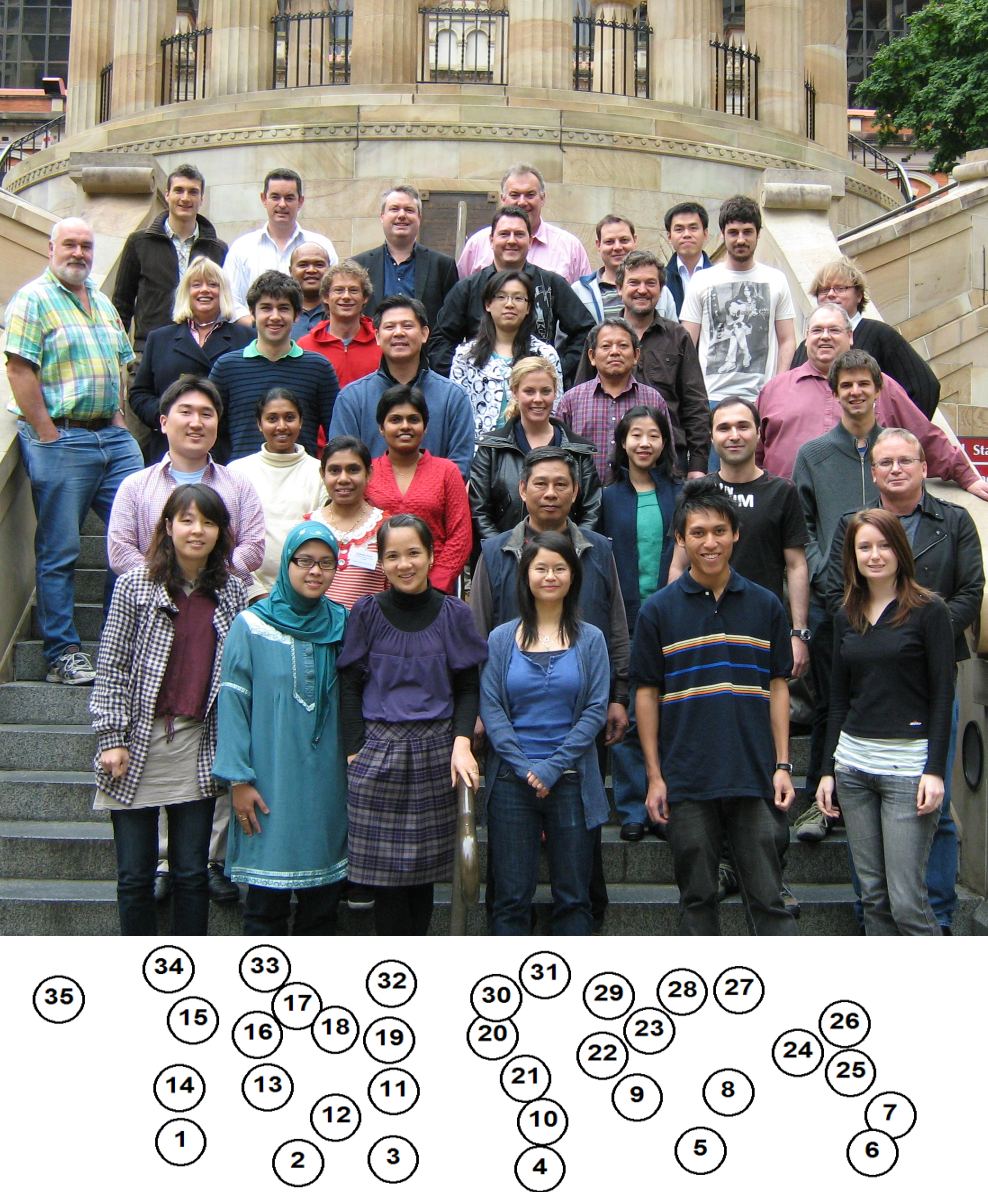 June 2010 Brisbane Practical CGE Modelling Course
1: Hyunjeon Hong; 2: Risti Permani; 3: Lien Huong; 4: Ju-Ai Ng; 5: Nithi Srinkapaibulaya; 6: Nikki Rogers; 7: Richard Seymour; 8: Peter Leventis; 9:Felicity Pang; 10: Ngoc Que Nguyen;11: Disna Sejeewani; 12: Samudu Perera; 13: Aruni Gunawardena; 14: Jae-Rim Choi; 15: Judith McNeil; 16: Michael Begg; 17: Ogis Samida; 18: Oliver Fritz; 19: Sanpong Chuenroj; 20: Mei Li; 21: Jacky Funder; 22: Zakariah Abul Rashid; 23:Glyn Wittwer; 24: Brent Layton; 25: Philip Harslett; 26: Harley Birt; 27: Matt Lakeman; 28: Joseph Lim; 29: Clinton McMurray; 30: Koenraad Van Landegham; 31:Philip Adams; 32: Mark Picton; 33: Paul Crompton; 34: Sacha Süßspeck; 35: Brent Davis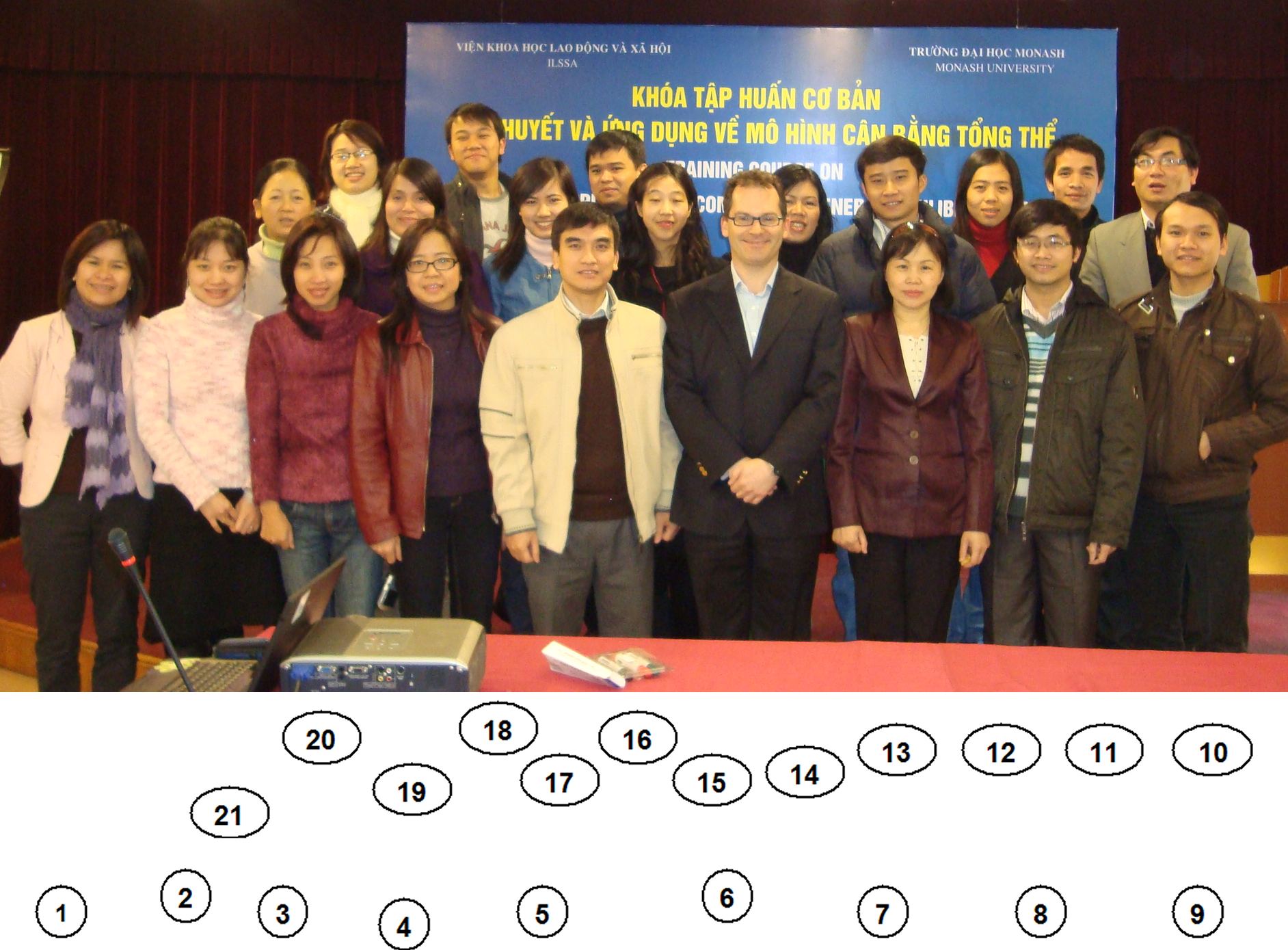 January 2010 Hanoi CGE Modelling Course
1. Chu Thi Lan; 2. Nguyen Thi Thanh Thao; 3. Pham Minh Thu; 4. Trinh Thu Nga; 5. Luu Quang Tuan; 6. James Giesecke; 7. Nhi Tran; 8. Pham Ngoc Toan; 9. Tran Thanh Luan; 10. Nguyen The Ha; 11. Pham Van Tien; 12. Nguyen Thi Hanh; 13. Gian Thanh Cong; 14. Truong Le My Ngoc; 15. Felicity Pang; 16. Phi Vinh Tuong; 17. Nguyen Thi Huyen; 18. Le Truong Giang; 19. Cao Minh Huu; 20. Dinh Thi Van; 21. Nguyen Thi Lan.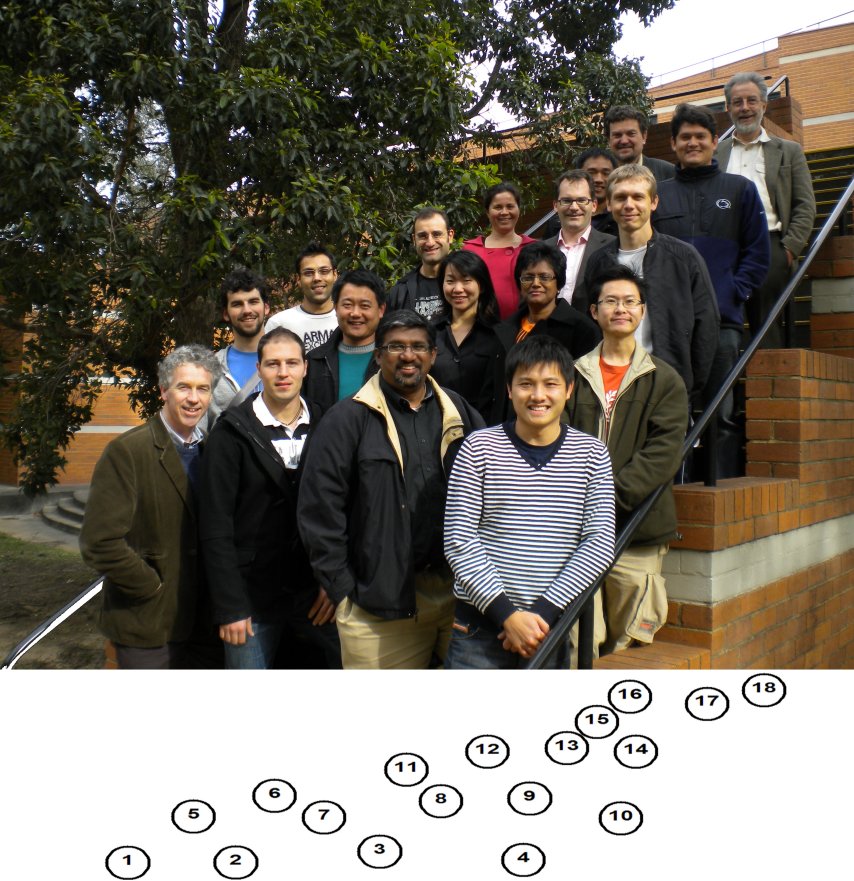 October 2009 Regional CGE Modelling Course at Monash University
1: Julian Morrison, 2: Manuel Arapis, 3: Mahendhiran Nair, 4: Robin Wong, 5: James Zuccollo, 6: Dewn Mushtaq, 7: Jiao Wang, 8: Angela Phang, 9: Santha Vaithilingam, 10: Pathomdanai Ponjan, 11: Peter Mavromatis, 12: Janine Dixon, 13: James Giesecke, 14: Heinrich Bohlmann, 15: Erwin Corong, 16: Glyn Wittwer, 17: Ernesto Valenzuela, 18: Mark Horridge.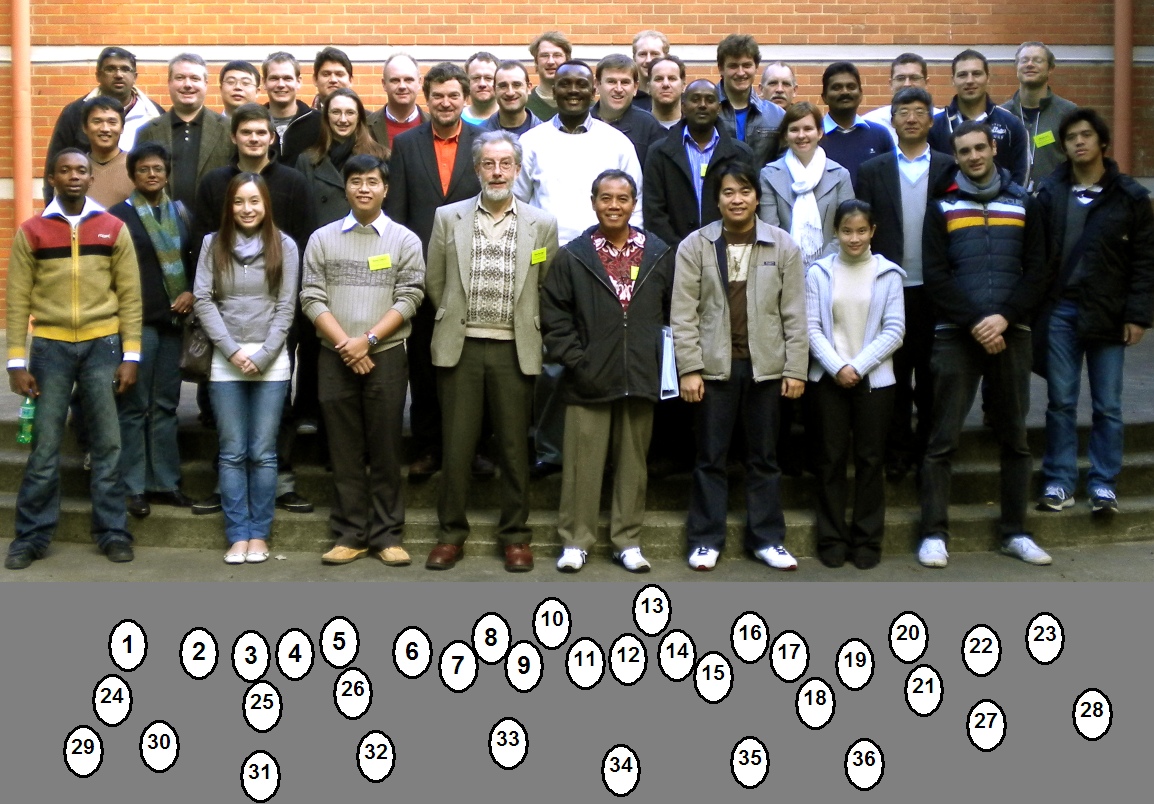 July 2009 CGE Modelling Course at Monash University
1: Mahendhiran Nair, 2: Mark Picton, 3: Yiping Xu, 4: Paul Newton, 5: Ernesto Valenzuela, 6: John Wilson, 7: Glyn Wittwer, 8: David King, 9: Peter Mavromatis, 10: Marcus Walsh, 11: Patterson Ekeocha, 12: Stephen Anthony, 13: Kevin Hughes, 14: Eric Parnis, 15: Neelesh Gounder, 16: Matthew Donoghue, 17: Clive Brooks, 18: Madeline Veenstra, 19: V. Sivabalasingam, 20: Tom Bolton, 21: Huang Delin, 22: Manuel Arapis, 23: Michael Jerie, 24: Erwin Corong, 25: Donald Sigrist, 26: Stephanie Szakiel, 27: Robiah Elsaadi, 28: Kelvin Yuen, 29: Mark Hirnyam, 30: Santha Vaithilingam, 31: Christine Tran, 32: Hoang Cuong Le, 33: Mark Horridge, 34: Mr Purwoko, 35: Ekki Syamsulhakim, 36: Karla Subrata, absent: Tri Wibowo.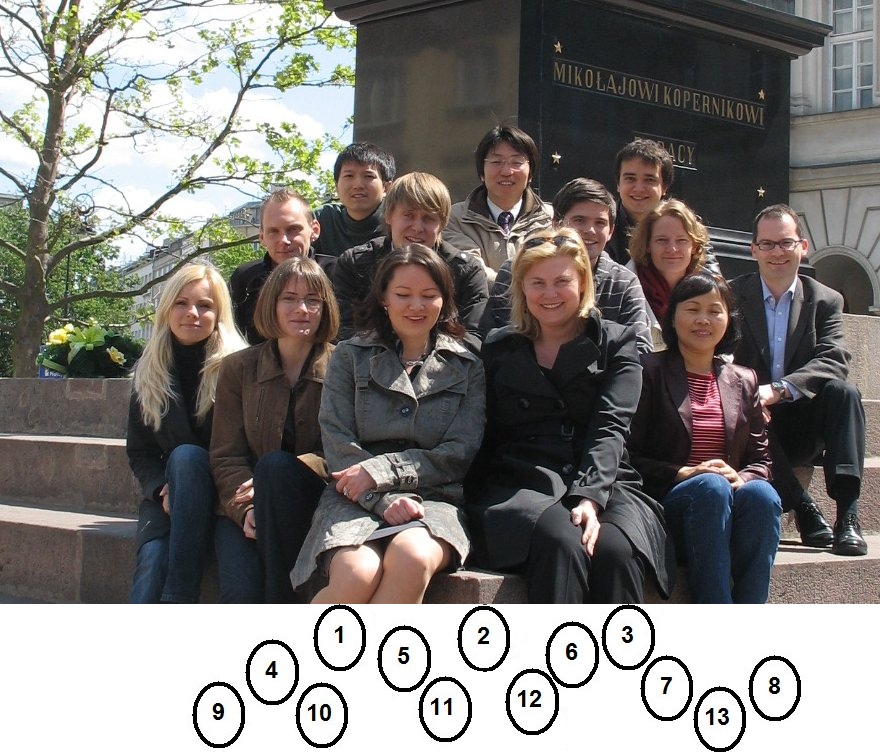 May 2009 CGE Modelling Course at Polish Academy of Sciences, IRWiR, Warsaw
1 Harutaka Murofushi; 2 Fumihiko Koyata; 3 Stefano Verde; 4 Torbjörn Jansson; 5 Jussi Ahokas; 6 Donald Sigrist; 7 Tanja Kirn; 8 James Giesecke; 9 Agnieszka Poczta-Wajda; 10 Karolina Pawlak; 11 Kaarina Reini; 12 Katarzyna Zawalinska; 13 Nhi Tran Hoang;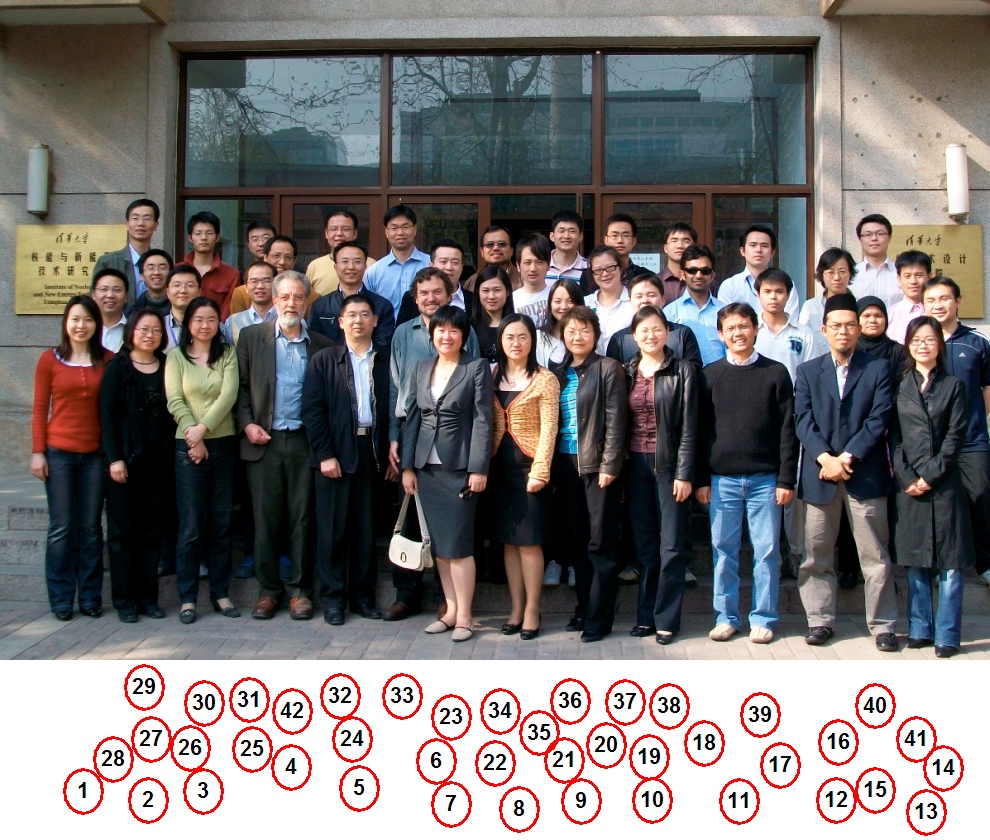 April 2009 CGE Modelling Course at Tsinghua University, Beijing
1 Wenjia Cai; 2 Alun Gu; 3 Jie Li; 4 Mark Horridge; 5 Chuanyi Lu; 6 Glyn Wittwer; 7 Yinhua Mai; 8 Xiujian Peng; 9 Hongzhen Ni; 10 Lingyun Huang; 11 Hiyadat Amir; 12 Tamat Samadi; 13 Lafang Wang; 14 Hao Xiao; 15 Norlida Hanim Mohd Salleh; 16 Xiaobing Feng; 17 Wu Qin; 18 Tariq Ali; 19 Mingzhi Xiao; 20 Chin-Wen Yang; 21 Chun Tang; 22 Yujing Niu; 23 Jianxin Wang; 24 Jifeng Li; 25 Lei Wang; 26 Jia Liu; 27 Yue Huang; 28 Chaoxian Guo; 29 Chenglong Zhang; 30 Chao Bi; 31 Yu Liu; 32 Gang Li; 33 Kun Zhao; 34 Jamal Othman; 35 Yi-Chen Chiang 36 Linke Hou; 37 Hui Zhang; 38 Xiang Yin; 39 Guangping Hu; 40 Xiaokang Liu; 41 Xiaoyuan Dong; 42 Jianjin Liu;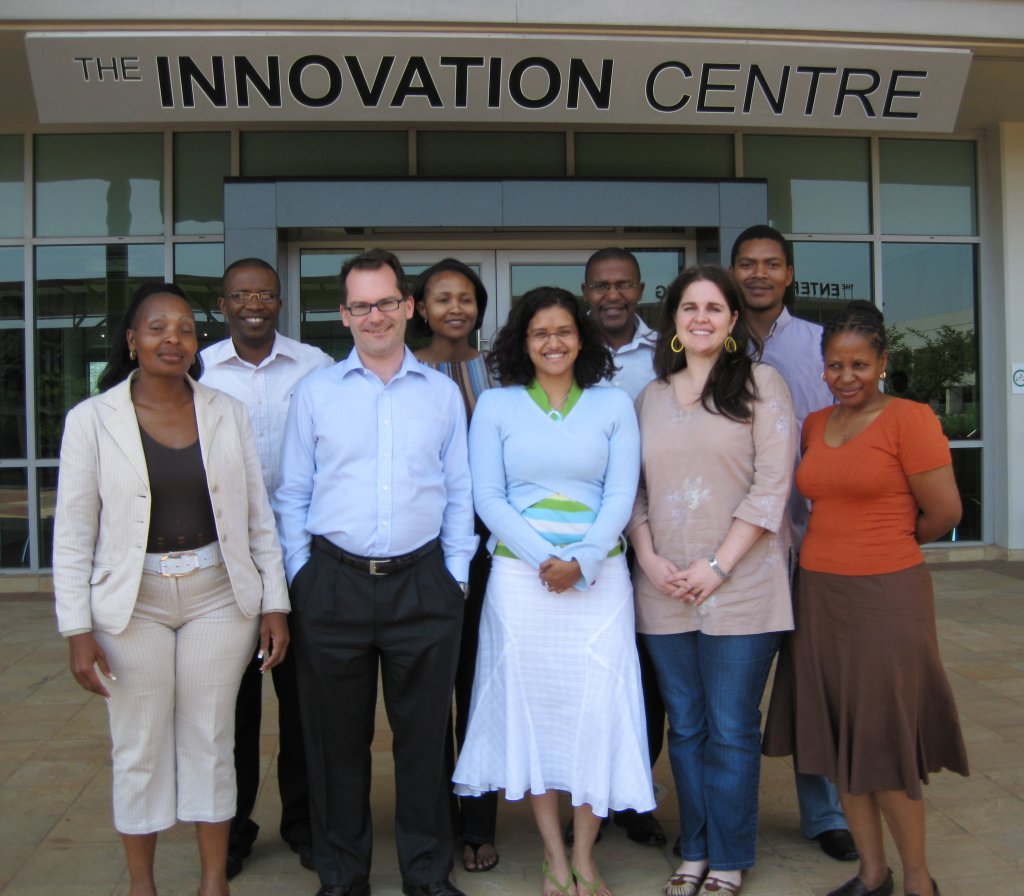 October 2008 Regional CGE Modelling Course at Pretoria, South Africa
From left to right -- Back row: 1:Tabo Foulo; 2:Mmatshepo Maidi; 3:Patrick Mabuza; 4:Xolisile Mgxaji;
Front row: 5:Modile Boshielo; 6:James Giesecke; 7:Kim Adonis; 8:Louise Roos; 9:Tumi Sebusi.

October 2008 Practical CGE Modelling Course at ANU (Canberra)
1:Kris Morley; 2:Chris Woolnough; 3:William Ackworth; 4:Ziaul Hoque; 5:Catherine Tulloh; 6:Rakith Senyanake; 7:Nhi Tran; 8:Manju Radhakrishnan; 9:Tony Wiskich; 10:Allison Mew; 11:Philip Adams; 12:Jahnvi Vedi; 13:Ryan Faulkner; 14:Glyn Wittwer; 15:Tom Skladzien; 16:Tan Kok Kong; 17:Adam Foster; 18:Swarnim Wagle; 19:Peter Berry; 20:Jiao Wang; 21:Todd McKinnis; 22:Suwin Sandu; 23:Raymond Mi; not pictured:Alexis Hardin; Heinrich Bohlmann (photographer).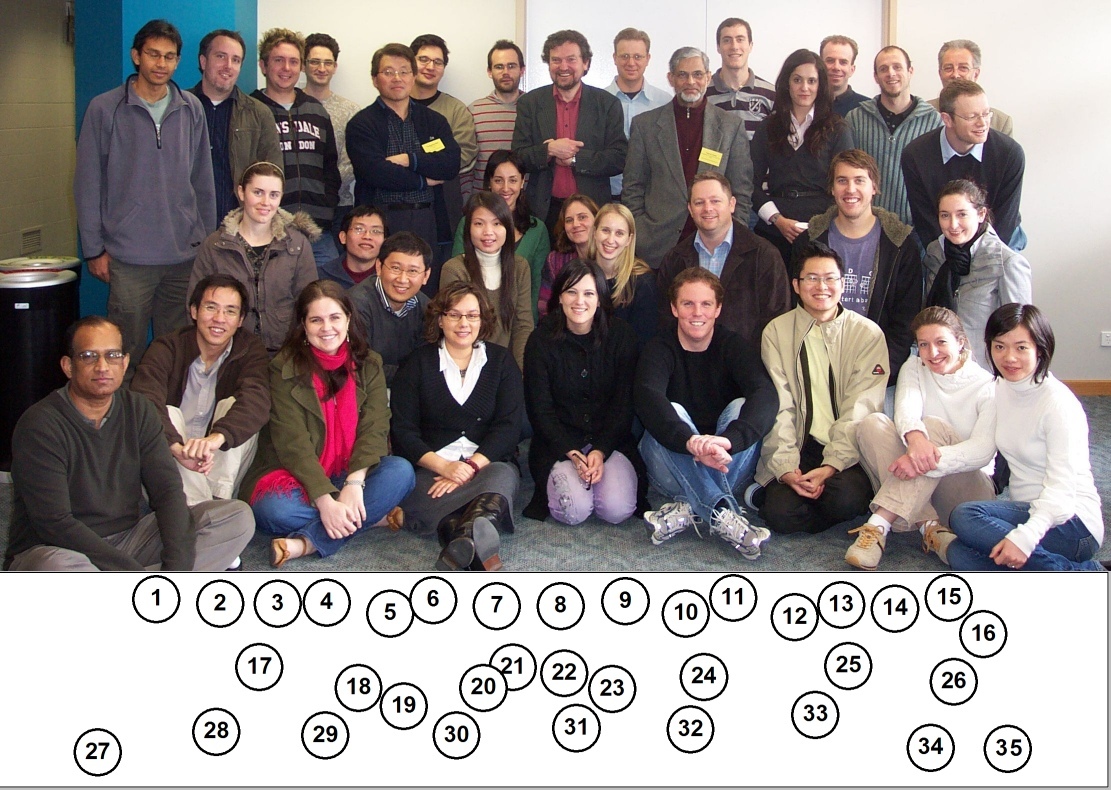 July 2008 Practical CGE Modelling Course at Monash
1:Neal Sarma, 2:Ben Ferguson, 3:Michael Creed, 4:Alex Maevsky, 5:Youngchul Shin, 6:Andreas Chai, 7:Luke Featherston, 8:Glyn Wittwer, 9:Michael Gadiel, 10:Nazrul Islam, 11:Felix Barbalet, 12:Effie Stjepanovic, 13:Christopher Hinchcliffe, 14:Nicolas Herault, 15:Mark Horridge, 16:Michael Jerie, 17:Julia Thomson, 18:Fang Chun Te, 19:Roh Won-jong, 20:Lee Chiao-Ling, 21:Catherine Costa, 22:Marnie Griffith, 23:Melanie Ford, 24:Michael Monck, 25:Matt Titmanis, 26:Elizabeth Clark, 27:Maheshwar Rao, 28:Charles Xiao, 29:Louise Roos, 30:Laura Flores, 31:Char-lee McLennan, 32:Chris Roche, 33:Pathomdanai Ponjan, 34:Michelle Osborne, 35:Lan Dang.

Jan-Feb 2008 Practical CGE Modelling Course at NZIER, Wellington, NZ
From left: John Connell, Wei Zhang, Chris Schilling, James Giesecke, Daniel Twaddle, John Madden, John Young, Trinh Le, John Ballingall, John Stephenson, Katarina Nossal, Nathaniel Robson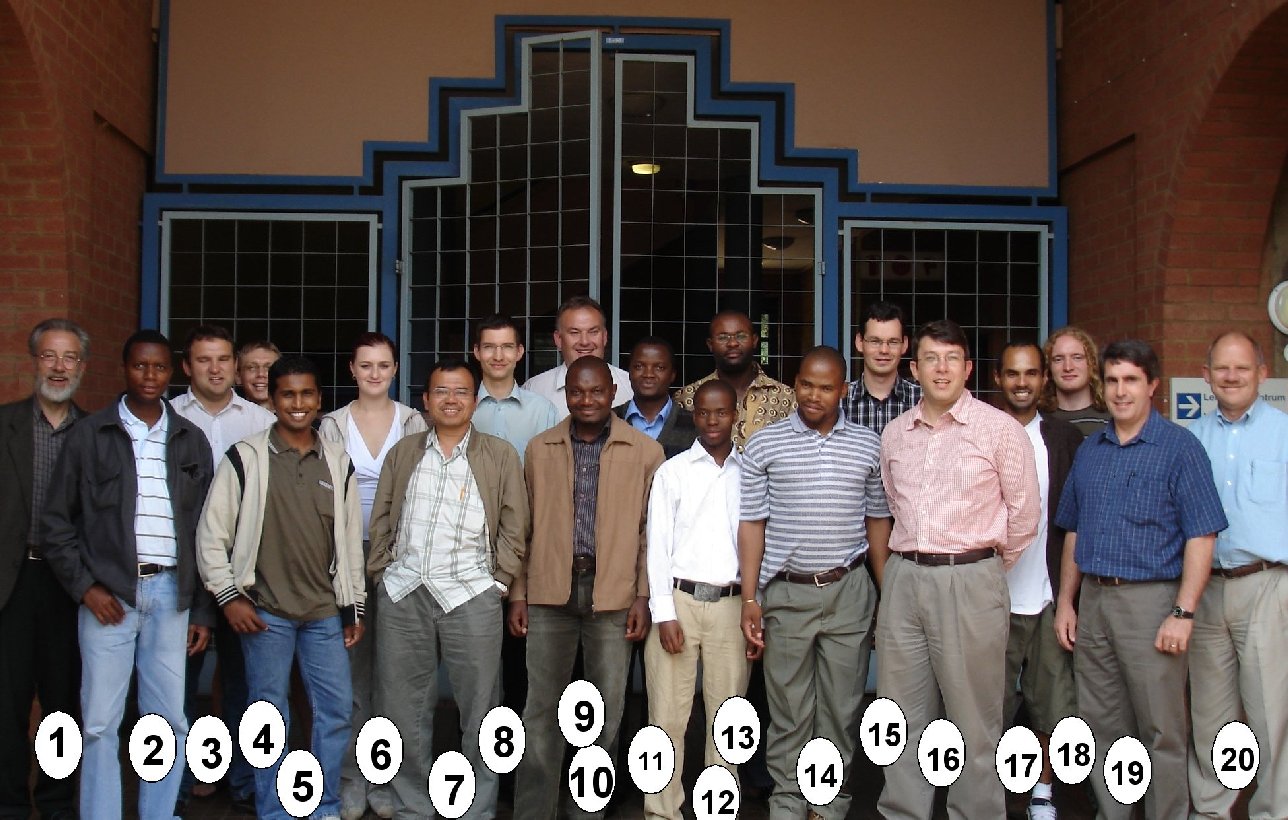 October 2007 Trade Modelling Course at University of Pretoria
1:Mark Horridge 2:Tshepo Ranoto 3:Chris Lötter 4:Heinrich Bohlmann 5:Kevin Naidoo 6:Marinda Pretorius 7:Jamal Othman 8:Abrie Swanepoel 9:Philip Adams 10:Mwamba Flori 11:Albert Makochekanwa 12:Boitumelo Mashilo 13:Muzungu Diakolo 14:Bonani Nyhodo 15:Reyno Seymore 16:Jacobus Verster 17:Adenaan Albertus 18:Guillaume Duhain 19:Andre Jordaan 20:Jan van Heerden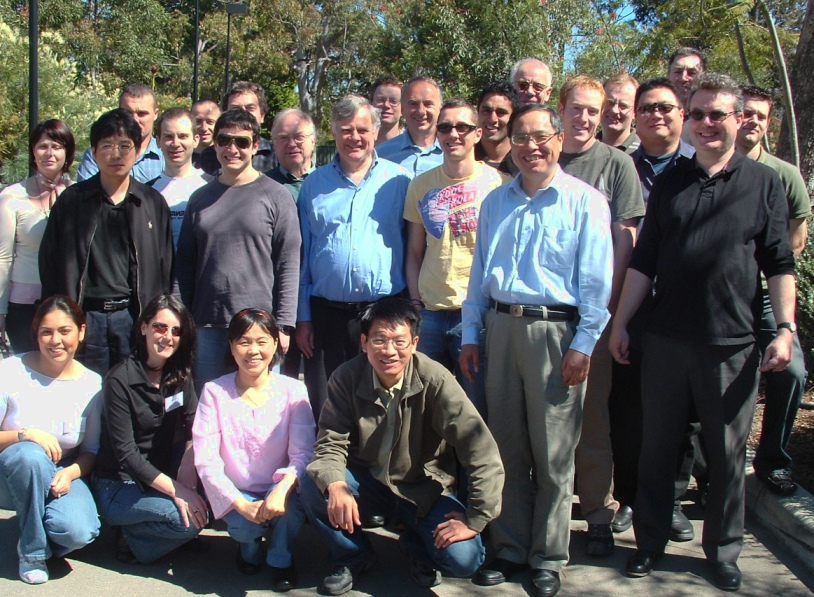 September 2007 Practical CGE Modelling Course at Macquarie University, Sydney
Back standing: Andrew Hughes, Wojtek Swezczyk, Glyn Wittwer, Michael Jerie, Tony Bryant, Mathew Roberts, Keith Wignall
Middle standing: Rebecca Greenfield, Grant Whitesman, Roger Tonkin, Thomas Stinson, Matthew Fernandes, Andrew Barker, Franciscus Tandean, Brad Mitchell
Front standing: Kwang Chun, Jim Kalotheos, Russel Cooper, Gus Charteris, Yophy Huang, Mark Picton.
Sitting: Mayela Garcia, Jodie Patron, Nhi Tran, Suthin Wianwiwat.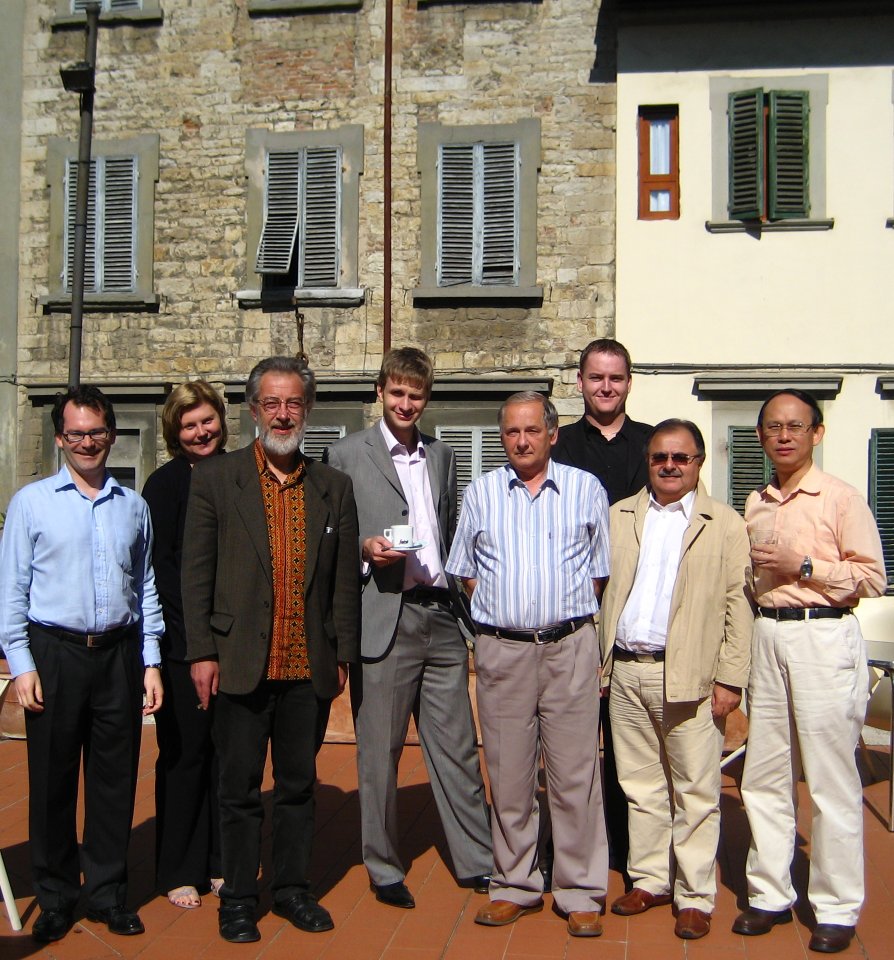 September 2007 Regional CGE Modelling Course in Prato, Tuscany
Participants: James Giesecke, Katarzyna Zawalinska, Mark Horridge, Serguey Patvakanov, Leszek Klank, Adam Chambers, Argo Avakov, Yunchang Jeffrey Bor.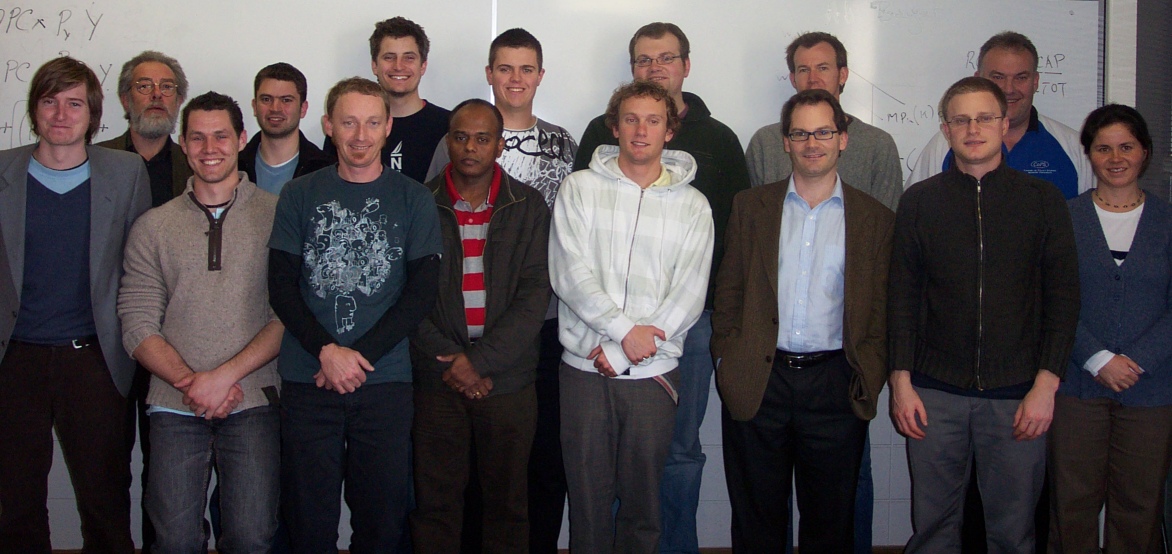 July 2007 Regional CGE Modelling Course at Monash University, Melbourne
Back Row: Mark Horridge, Craig Michaels, Michael Hubbard, Graeme Cuxson, Damian Mullaly, Thom Goodwin, Philip Adams
Front row: Alex Barnes, Tim Murray, Matt Clark, Athula Naranpanawa, William Acworth, James Giesecke, Daniel Wilson-Otto, Janine Dixon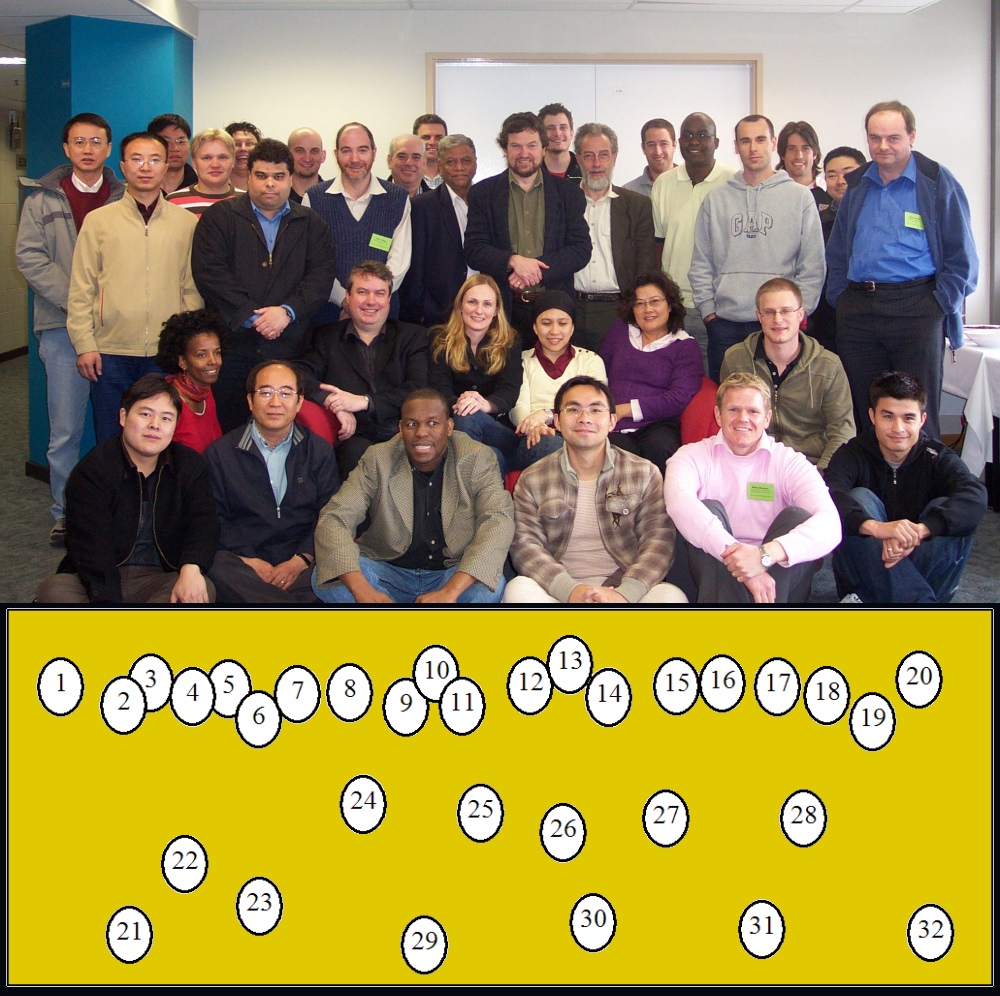 July 2007 Practical CGE Modelling Course at Monash University, Melbourne
Back row: 1 Zhang Yaxiong, 2 Li Jifeng, 3 Zhao Kun, 4 Kimmo Marttila, 5 Julie Novak, 6 Paul Koshy, 7 Chris Zielinski, 8 Peter Collins, 9 Jose Scaramucci, 10 Glenn Hardy, 11 Muthi Samudram, 12 Glyn Wittwer, 13 Michael Hubbard, 14 Mark Horridge, 15 Mathew Barry, 16 Kato Mukasa Kimbugwe, 17 Rob Hodgson, 18 Rowan Enright, 19 Shusaku Yamamoto, 20 Peter Garrick
Front row: 21 Xiao Mingzhi, 22 Mintwab Tafesse, 23 Rhee Hae-Chun, 24 Mark Picton, 25 Kathleen Mckinnon, 26 Nadia Intan Jalil, 27 Shuyan Huo, 28 Daniel Wilson-Otto, 29 Thabo Gopane, 30 Xiao Hao, 31 Riaan Rossouw, 32 Paul Loke.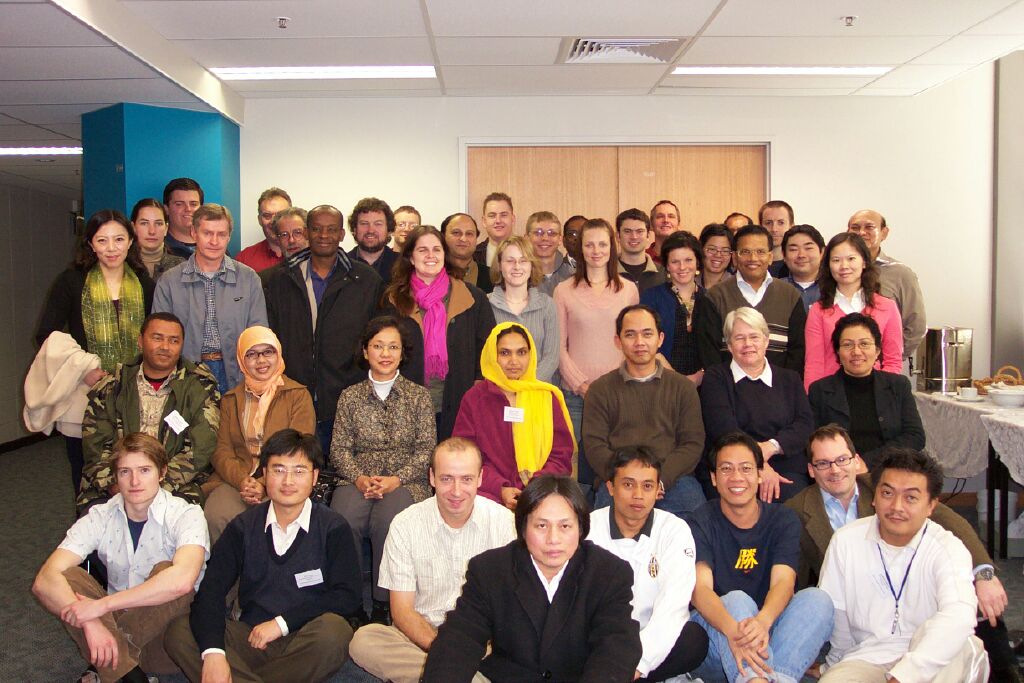 July 2006 Practical CGE Modelling Course at Monash University, Melbourne
Very Back Row: Graeme Cuxson, Philip Adams, Michael Jerie, Adam Chambers, Gyaneshwar Rao, Edward Gall, Mahesh Rao, John Ritchie, Back Row: Astra Auzina, Mark Horridge, Glyn Wittwer, Shamim Shakur, Heinrich Bohlmann, Craig Michaels, Joanne Chong, Shahidur Rahman Next row: Xu Li, Gerhard Kuhn, Steven Ntambi, Louise Roos, Catherine Collier, Jade Grieve, Sarah Carrington, Sarath Delpachitra, Shusaku Yamamoto, Chihwei Wang Seated row: Jean Luc Erero, Pipit Pitriyan, Armida Alisjahbana, Bodrun Nahar, Ikhsan Modjo, Jill Harrison, Sylvia Sivo Front row: Alex Barnes, Jun Yang, Wojtek Szewczyk, Thiep van Ho, Wawan Hermawan, Tang Cheong, James Giesecke, Kodrat Wibowo .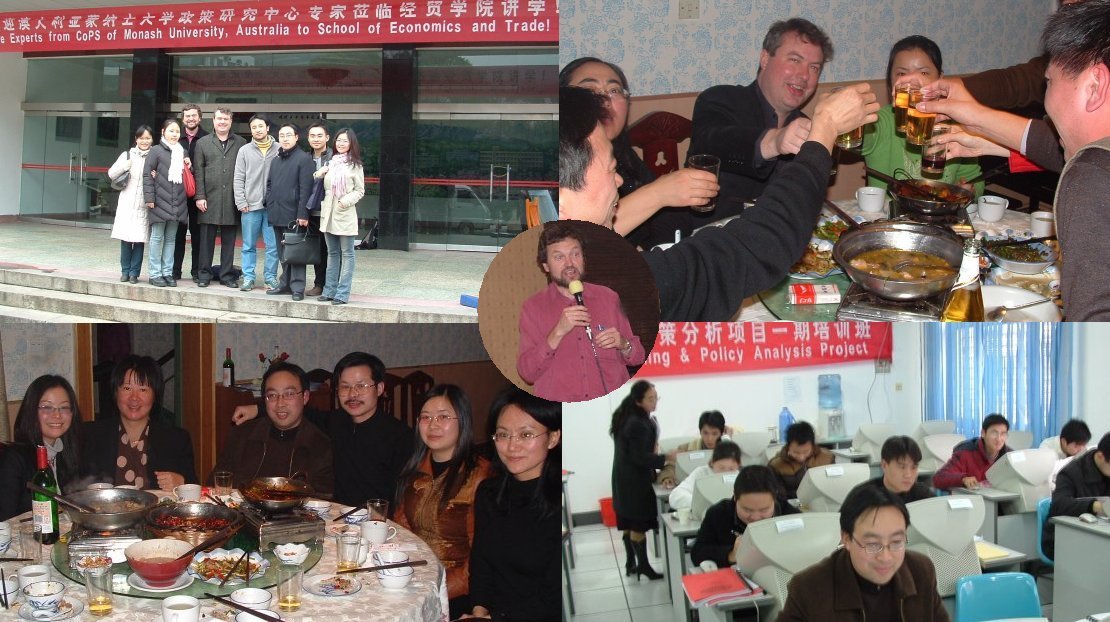 February 2006 Practical CGE Modelling Course at Hunan University, Changsha
Top left: Welcome to Hunan; Top right: Mark Picton explains the concept of neutral technical change;
Bottom left: Dr YH Mai (spotted dress) and friends; Bottom right: class at work; Center: Dr Wittwer lecturing.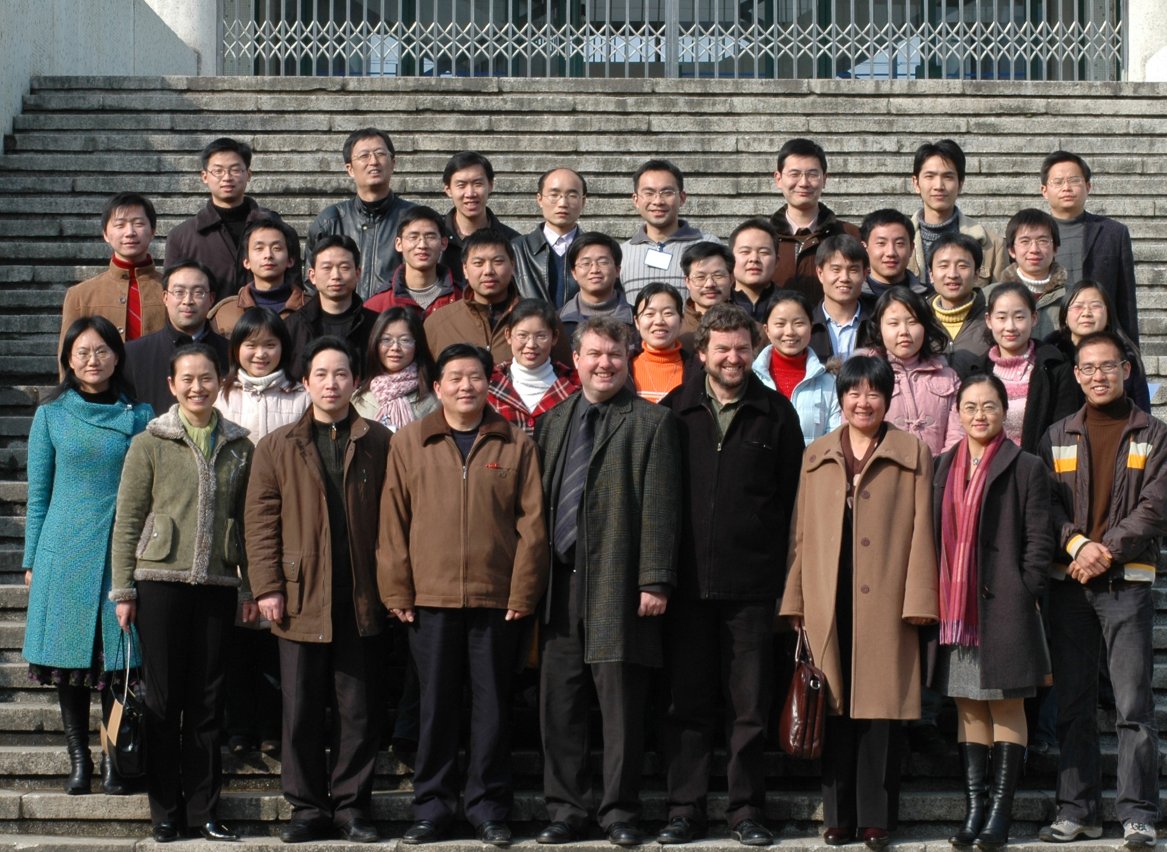 February 2006 Practical CGE Modelling Course at Hunan University, Changsha

Key to above photo: 1: Guo Fei; 2: Jiang Wei; 3: Chen Shibin; 4: Wang Daoyuan; 5: Guo Ye; 6: Xiao Hao; 7: Hubing Chuan; 8: You Hong Ye; 9: ????; 10: Zhu Shujin; 11: Cai Wenbin; 12: Peng Guoqiang; 13: Chen Hao; 14: Yi Xuejun; 15: Xie Rui; 16: Chu Xingen; 17: Xiao Mingzhi; 18: Li Xiaozu; 19: Li Jingchi; 20: He Yu; 21: Wang Kunyu; 22: Li Yaqiong; 23: Zhu Xiaojuan; 24: Zeng Jia; 25: Zhang Yabin; 26: Wang Lafang; 27: Wang Shichang; 28: Chen Pei; 29: Mark Picton; 30: Zhou Hua; 31: Glyn Wittwer; 32: Chen Wen; 33: Mai Yinhua; 34: Zhang Baojun; 35: Peng Xiujian; 36: Yang Jing Jing; 37: Mac Huanxiu; 38: Charles Xiao.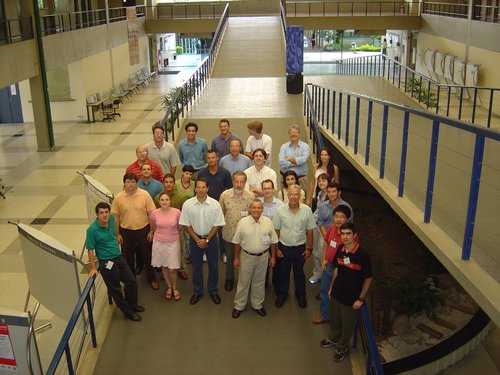 February 2006 Practical CGE Modelling Course at São Paulo, Brazil