GEMPACK Release 12.1 (December 2019, latest update 12.1.004 February 2020)
Release 12.1 maintains the recent trend of speeding up simulations. LU decomposition is faster, as is GEMSIM. Performance improvements are listed in a table at the end of this page.
New features include automatic homogeneity testing, further improvements to searching in the TABmate editor, improvements to ViewHAR and ViewSOL, and faster start times for graphical interface (GUI) programs. As well, many small bugs introduced in Release 12.0 have been fixed.
Automatic Homogeneity Testing
Most CGE models are homogeneous degree zero in prices and quantities. The automatic homogeneity testing is one method for checking the homogeneity, real or nominal, of a model. Two kinds of tests are available, a pre-simulation homogeneity check of equations and a homogeneity simulation for testing simulation results. In both cases results of the test are summarized for the user.
To prepare a model for automatic homogeneity testing the user:

Specifies the VPQType (Value, Price, Quantity, None or Unspecified) of variables. Several methods are provided which minimize the effort required by the user.
Specifies the original level (ORIG_LEVEL=...) for ordinary change variables.
Includes one of the following commands in a CMF file


homogeneity check = real ;
homogeneity check = nominal ;
homogeneity simulation = real ;
homogeneity simulation = nominal ;

ViewHAR and ViewSOL improvements


when displaying mappings ViewHAR now shows elements of the domain and codomain sets
in ViewHAR keyboard combinations allow the user to select active sets (CTRL + LEFT, CTRL + RIGHT) and elements of active set (CTRL + UP, CTRL + DOWN)
new menu items in ViewHAR and ViewSOL open explorer or CMD exe in current folder
in ViewHAR and ViewSOL, while viewing the Contents screen or data, typing activates a quick search in the current column
CTRL + X copies the contents of a single cell from ViewHAR and ViewSOL
ViewSOL displays variables up to 5GB in size in 64-bit mode and displays a message about variables that were excluded due to size

TABmate improvements


searching highlights all matching text on the screen, not only the next occurrence
non-greedy wildcard for regular expression search
code completion with additional keyword information and keyword templates
TABmate tabs can now be rearranged

GUI program improvments


the first 10 items in File menu most recently used (MRU) list can be accessed using 0-9 keys
speed up of program start-up

Source-code GEMPACK now supports Intel Fortran 19
Availability
Release 12.1 will be supplied to all new GEMPACK purchasers. Current subscribers to the annual payment scheme for the source-code version of GEMPACK are advised to download a free upgrade -- they should email sales@gempack.com (specifying their licence number) for further details.
In some cases, Release 12.1 licences will need to be 'activated'; more details here.
Advice to GFortran source-code users
Note that GEMPACK 12.1 or later requires GFortran version 6.4.0. If you are upgrading to GFortran 6.4.0, first uninstall the older GFortran. [In Control Panel "Programs and Features" uninstall, for example, "MinGW-w64 version 1.0 GCC 4.8.1 prerelease (GEMPACK compatible)". More information.]
Advice to Intel Fortran source-code users
GEMPACK 12.1 requires Intel Fortran version 13 to 19 inclusive.
EXE files produced by GEMPACK 12.1 and the Intel compiler need to have access to a file called libiomp5md.dll. Normally access is guaranteed, since this file comes with both GEMPACK 12.1 and Intel Fortran. However, if you use GEMPACK 12.1 (or later) with Intel Fortran and intend to distribute TABLO-generated EXE files (for example, in RunDynam archives or in RunGTAP version zips) to other people who might not have installed Intel Fortran or GEMPACK 12.1, you should be aware of the missing DLL problem.
Recent GEMPACK speedups
The table below shows recent GEMPACK speedups. Run-times for 4 large models [GTAP4040, MMRF4, MonUSAoct03 and TERM] are shown in seconds. For testing details please see here.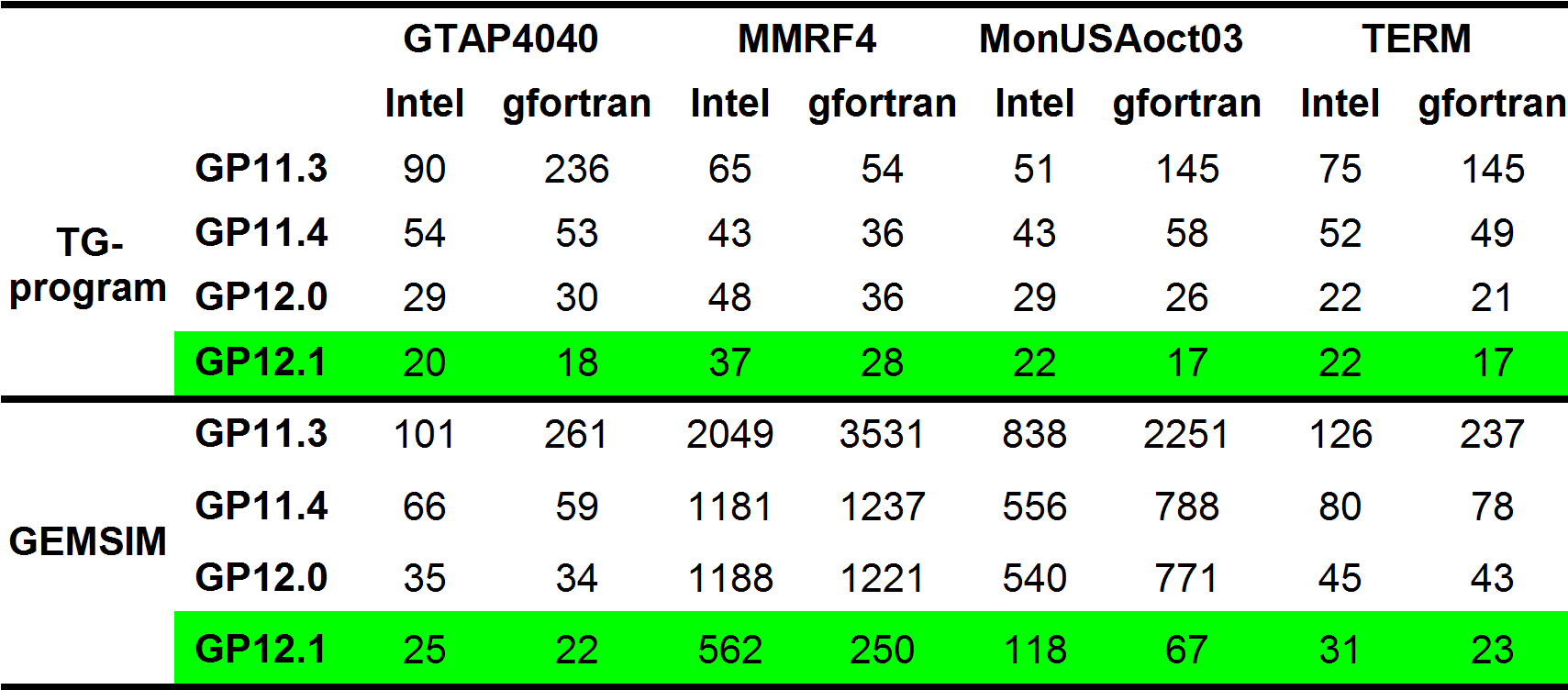 See also:
Improvements for GEMPACK Release 12.0 (September 2018)
Improvements for GEMPACK Release 11.4 (January 2016)
Improvements for GEMPACK Release 11.3 (Jun 2014, January 2015)
Improvements for GEMPACK Release 11.2 (May 2013)
Improvements for GEMPACK Release 11.1 (May 2012)
New features of GEMPACK Release 11.0 (October 2011)
Improvements for GEMPACK Release 10.0-001 (April 2009)
All GEMPACK release notes
Different versions of GEMPACK